DAKOTA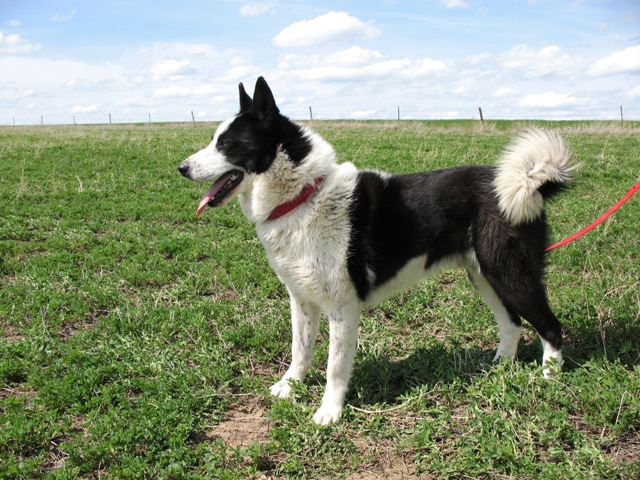 Father of puppies born 04/16/09
At Bear Butte Bear Dogs, we are striving to produce quality Karelian Bear Dogs for personal protection and companionship. These medium-sized, beautiful dogs are the perfect choice for people who live in areas populated with bears, mountain lions, or any other predator that could threaten you, your livestock, or your home. They are also a great companion for the outdoor enthusiast, such as backpackers and hunters. Safer than guns or mace that may not discharge, it is our goal to provide you with the opportunity to own one of these fearless and courageous companions.
Karelian Bear Dogs are used in many programs across North America, in keeping people, and bears safe from dangerous confrontations. In many Rocky Mountain States, they are used for keeping problem bears away from campgrounds in national parks, local towns, and private property. These dogs are quick, strong, and agile. They are fierce protectors of their owners, and their property, while at the same time, being friendly, and non- aggressive towards people. Other breeds of dogs could become frightened when confronted by a bear or mountain lion, and run back to their owner. This could actually increase your chances of being attacked! The Karelian Bear Dog will stand his ground, and not endanger his owner. Who knows, he just might save your life someday!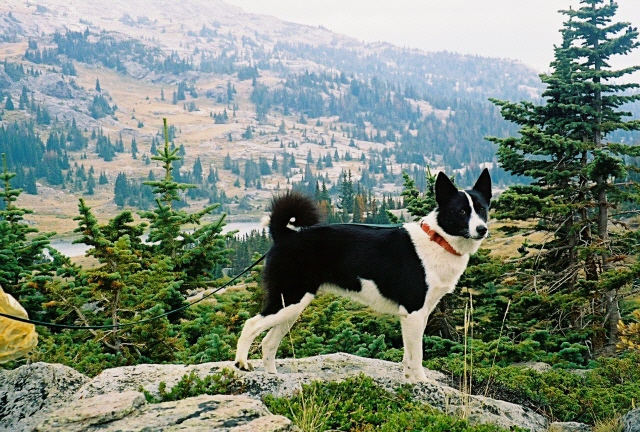 Qimmiq, protecting our campsite high in the Bighorn Mountains.
We currently have puppies for sale, and are expecting more litters in the future. Puppies can be flown to the nearest airport in your area, or you can purchase at our ranch and save on shipping. Vet check, and health papers are included upon request. All puppies will be eligible for registration with the Universal Kennel Club International. Puppies start at only $300.

Bear Butte Bear Dogs

Dave and Rebecca Meisner

13610 Titan Rd.

Sturgis, South Dakota

57785

Phone# (605)490-2969

NEW PUPPIES born 11-19-2011.

Two males, three female.

Taking deposits now.

Puppies For Sale


Four males, one female